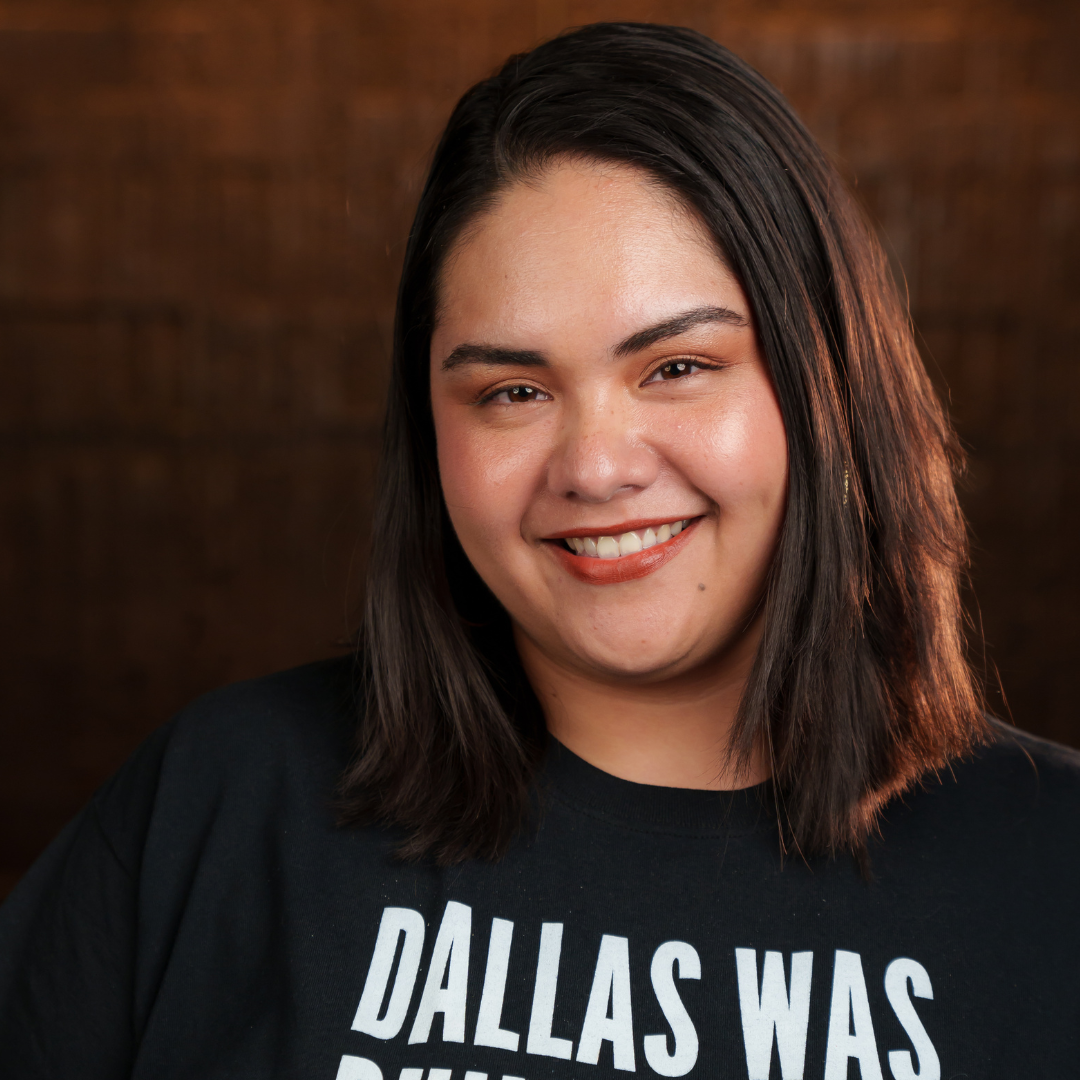 Laura Quintero Chavez is the Manager of Partnerships for Dallas Truth, Racial Healing, and Transformation. Laura celebrates the intersectionality of her identity: Mexican descent, US born, first-generation, oldest daughter, and Spanglish speaking. She enjoys learning about the intersectionality of other people and celebrates their uniqueness.
Laura's involvement in different community projects and programs has been influenced by her understanding of the built environment, and the people and culture that take up space in those places. Her upbringing in Oak Cliff to predominantly Spanish speaking parents made her realize that not all spaces are welcoming, and that those spaces can be harmful. Thereby, Laura grew up as a mediator for her family and evolved those experiences to encourage young people to create solidarity with their peers and become advocates for themselves, their family, and their communities.
Laura's interests in the built environment, art, and history encouraged her to pursue an undergraduate degree in interior design from the University of Texas at Arlington. Laura practiced interior design for several years before transitioning to secondary education. During her years as an interior designer, she was involved with organizations that hosted programming for high school students that centered on the themes of architecture and design. Eventually, those experiences led to an opportunity to teach in the architecture program at Molina High School and the interior design program at the Price Career Institute South in Oak Cliff. Throughout her tenure, she centered her curriculum around activating spaces through a racial and social justice lens. She encouraged her students to celebrate the intersectionality of their identities, to create solidarity with their peers, and to advocate for their families and communities. At Molina High School, she hosted meetings for parents called Noches for Horchata. It was an opportunity to inform predominantly Spanish speaking parents on topics surrounding the community and the school.
Laura's experience as a teacher influenced her to pursue a graduate degree in city and regional planning at the University of Texas at Arlington. UTA provided the opportunity to engage with individuals and groups that were doing racial and social justice work in different communities in Dallas. Laura participated in Downwinders at Risk's College of Constructive Hell-Raising and became a board member at the organization. Laura is a supporter of Singleton United/Unidos' campaign to remove GAF from West Dallas (GAFs Gotta Go). She has also participated in research that identified racial and environmental injustices at Sand Branch, TX with UTA.
Laura enjoys connecting with people in her community and will support the efforts of individuals and organizations that are working towards celebrating the intersectionality of their identities and are working on creating spaces that are radically inclusive.