An Invitation to Truth, Racial Healing and Transformation
October 13, 2022 @ 9:00 am

-

October 14, 2022 @ 4:00 pm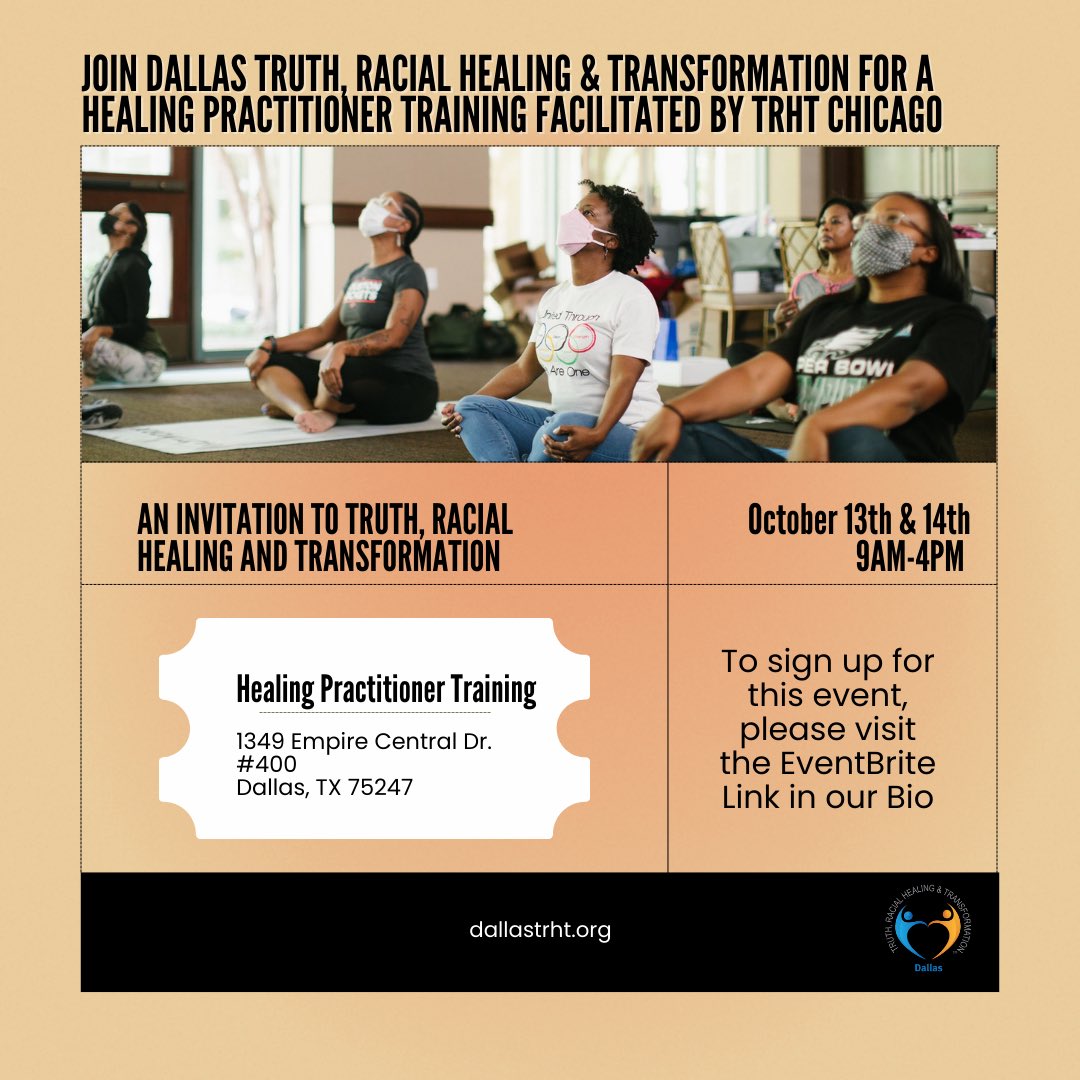 Become a Racial Healing Practitioner with the ability & skill to facilitate racial healing circles, hosted by Dallas TRHT & TRHT Chicago.
Join us for a two-day training sponsored by Dallas Truth, Racial Healing & Transformation.
Thursday, October 13th, 9a-4p
Friday, October 14th, 9a-3p
*Please note that you must be able to commit to the full two-day training in order to participate. Lunch will be provided.
Upon completion of the TRHT Racial Healing Circle Training, participants will have the capacity to:
– Assess and identify settings/communities that can benefit from a TRHT Racial Healing Circle
– Define, express, and create a personal narrative on the power/purpose/benefits of Racial Healing Circles
– Engage in the Co-design process of a TRHT Racial Healing Circle
– Co-facilitate a TRHT Racial Healing Circle alongside an experienced practitioner
– Comprehend the TRHT Framework and how it can be used to transform organizations & communities
– Create and belong to a community of Racial Healing Practitioners
– Share and exchange resources and tools that will continue to benefit and support the racial healing journey of a given community/family
___________________________________________________________________________________________________________
Systems and ideologies of hierarchy & racism undergird our daily existence. From our physical wellbeing to how we navigate our relationships and even how we rationalize our simplest choices, these ideologies have a way of ruling our very being.
Racial Healing Circles help us to reconnect to the core of who we are, recognize our common humanity and seek an improved societal existence outside of current systems of oppression. Racial Healing Circles invite/introduce us to begin an incredible journey of truth/healing and lays the framework toward true liberation.