16 OF DALLAS' MOST RESPECTED NON PROFITS SELECTED TO PARTICIPATE IN INAUGURAL RACIAL EQUITY NOW COHORT FACILITATED BY DALLAS TRUTH, RACIAL HEALING AND TRANSFORMATION
FOR IMMEDIATE RELEASE
Contact: Errika Flood-Moultrie
E. errikafm@dallastrht.org
P. 214-862-0636
or Jerry Hawkins
E. jerryh@dallastrht.org
RACIAL EQUITY NOW is the first of its kind in the Dallas-Fort Worth Metroplex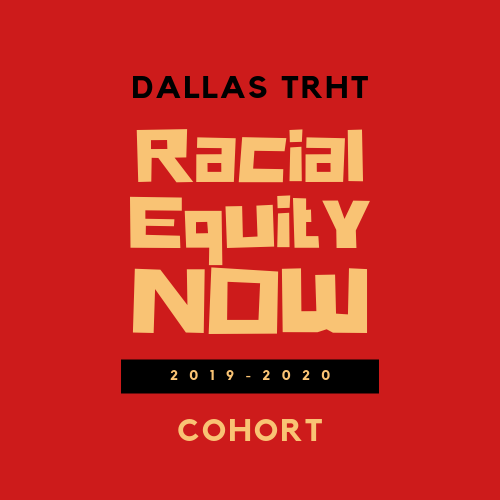 DALLAS – August 13, 2019 – Dallas Truth, Racial Healing & Transformation (Dallas TRHT) announced that sixteen organizations have been selected for the inaugural 2019-20 cohort of RACIAL EQUITY NOW, a partnership with the W. W. Caruth, Jr. Fund of Communities Foundation of Texas and Embrey Family Foundation, to support, educate and build racial equity, racial healing and equitable policy change capacity for the greater Dallas community. Dallas TRHT received an overwhelming response from the community for the initial program offering, with the submission of forty-seven (47) LOIs by Dallas-area organizations. Twenty-five (25) organizations were chosen from those 47 LOIs to submit applications and to interview with a Dallas TRHT panel, and after a rigorously selection process, sixteen (16) organizations were picked for the cohort. The inaugural cohort (listed in alphabetical order) includes: The AFIYA Center, American Indian Heritage Day, Bishop Arts Theatre Center, CitySquare, The Commit Partnership, Faith in Texas, Leadership ISD, Lone Star Justice Alliance, Miles of Freedom, Momentous Institute, North Texas Dream Team, NTARUPT, Richardson ISD, Teaching Trust, The Budd Center and United Way of Metropolitan Dallas.
Dallas TRHT's Racial Equity NOW cohort is the first project implemented after an eleven session resident-led community visioning process that directed Dallas TRHT to focus on education. The cohort is designed to provide organizations with racial equity training, data and information sharing, case study presentations, policy review and development, outcomes development, coaching, evaluation and a site visit. The RE NOW cohort will participate in a 12-month series of workshops, as well as be provided with 2 additional months of one-on-one racial equity coaching on developing and implementing racial equity policy and equitable practices. The cohort will also provide learning opportunities for personnel at all levels of the organization with a requirement that participants include a board member, senior level decision-making staff member and direct service staff member. "We're grateful to be selected as part of the inaugural Racial Equity NOW cohort! Through the work of this cohort, we're looking to directly impact the 39,000+ students and families, 5,000+ staff members, and the greater Richardson community," states cohort member and North Texas school district, Richardson ISD.
The RE NOW cohort offers three key outcomes for participating organizations. Participants will:
Increase their knowledge of race, racism, racial healing, racial equity and racial justice;
Examine, redefine and/or draft internal racial equity policy, a racial equity theory of change, and an organizational strategic plan with a racial equity lens;
Receive racial equity grant funding to implement their racial equity strategy plans.
"Dallas TRHT is extremely excited about our first-of-its-kind Racial Equity NOW cohort, and the organizations that were carefully selected to go on this journey with us. Representing almost every sector from organizing and criminal justice advocacy to educational policy making and philanthropy, Dallas TRHT's Racial Equity NOW cohort is a historic opportunity for our community to envision the possibilities of racial equity and racial healing and implement equitable transformation," states Dallas TRHT Executive Director, Jerry Hawkins. The Dallas TRHT Racial Equity Now Cohort begins on August 21, 2019. Updates will be published on the dallastrht.org website, Facebook page, and Twitter feed.
Dallas TRHT's Racial Equity NOW cohort is made possible, in large part, by a $305,000 investment from the W. W. Caruth, Jr. Fund of Communities Foundation of Texas (CFT). CFT is the custodian of the Caruth Fund, the foundation's largest endowment donated by William Walter Caruth, Jr. to advance innovative and evidence-based solutions to significant community challenges in the areas of education, public safety, health, and medical and scientific research. The grants range in size from a planning grant of $70,000 to implementation grants in the amount of $500,000. "We are being more explicit than ever about organizing our grantmaking along the stages of the human-centered design process from discovery through prototyping, implementation, and evaluation to scale up. We plan to maintain a strong focus on data-tracking and storytelling throughout," said Nadine Dechausay, Racial Equity NOW cohort interview panelist and CFT's director of community philanthropy who oversees CFT's Caruth grantmaking strategy.
Dallas TRHT's Racial Equity NOW cohort is also made possible, in part, by a $50,000 investment from the Embrey Family Foundation. The Embrey Family Foundation, who has shouldered the support of racial equity, social justice and art equity work in Dallas, has partnered with Dallas TRHT to sustain imperative racial healing work.
About Dallas Truth, Racial Healing & Transformation
Awarded in 2017 as a part of a 14-city W.K. Kellogg Foundation place-based initiative, Dallas Truth Racial Healing & Transformation (Dallas TRHT) is a community-based organization focused on planning for and bringing about transformational and sustainable change, and committed to addressing the historic and contemporary effects of racism. Dallas TRHT's mission is to create a radically inclusive city by addressing race and racism through narrative change, relationship building and equitable policies and practices with a vision of a Dallas where no North and South divisions exist in terms of race, wealth, arts, culture, health, safety, education and opportunity, and communities actively, honestly and openly acknowledge, repair and heal from its past and present racial inequities. Learn more: www.dallastrht.org @DallasTRHT #DallasTRHT
About Communities Foundation of Texas
With the goal of building thriving communities for all, Communities Foundation of Texas (CFT) works with many individuals, families, companies and nonprofits through a variety of charitable funds and strategic grantmaking initiatives. In 1974, W.W. Caruth, Jr. established his fund as part of the Communities Foundation of Texas with philanthropic goals to support frontier-advancing projects in education, scientific research, medical advancement and public safety. Like it does for the Caruth family, CFT professionally manages more than 1,000 charitable funds and has awarded more than $1.8 billion in grants since its founding in 1953. CFT is committed to serving and understanding donor needs, expertly handling complex gifts, wisely managing charitable funds and leveraging its community knowledge to increase charitable impact. Learn more: www.cftexas.org @GiveWisely #CFTImpact
About Embrey Family Foundation
Embrey Family Foundation's Mission is to Expand Awareness, Explore Possibilities and to Elevate Consciousness. Since the initial 6 grants totaling $36K in 2004, EFF has granted $6.4 million to the North Texas non-profit community to support a broad range of social programs in the areas of Education, Human Services, Human Rights, Arts & Culture, Community Enhancement and Animal Rights. Learn more: www.embreyfdn.org @EmbreyFdn